Design & Responsabilidade
CONFUSION IN HARMONY an alert of designers for designers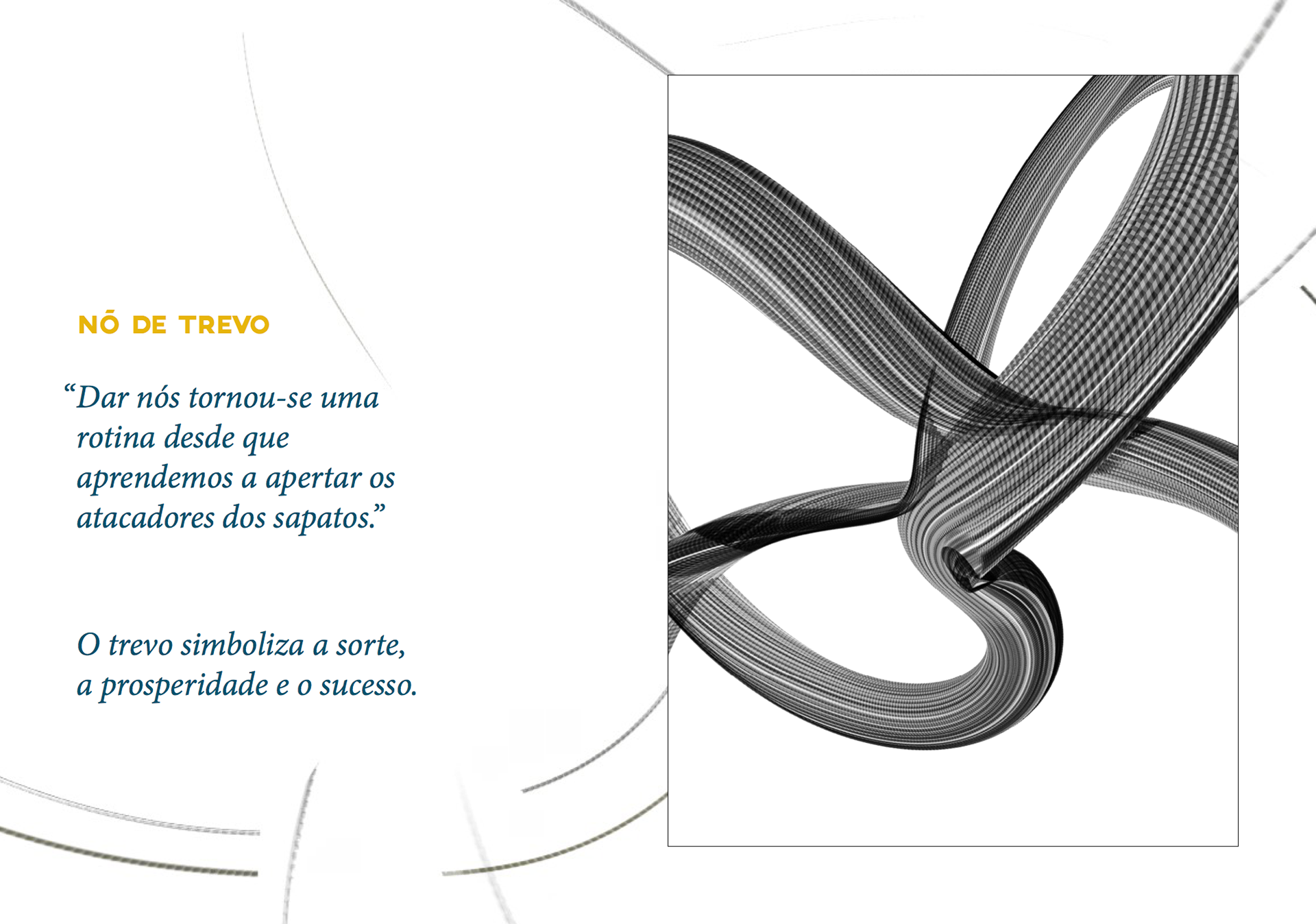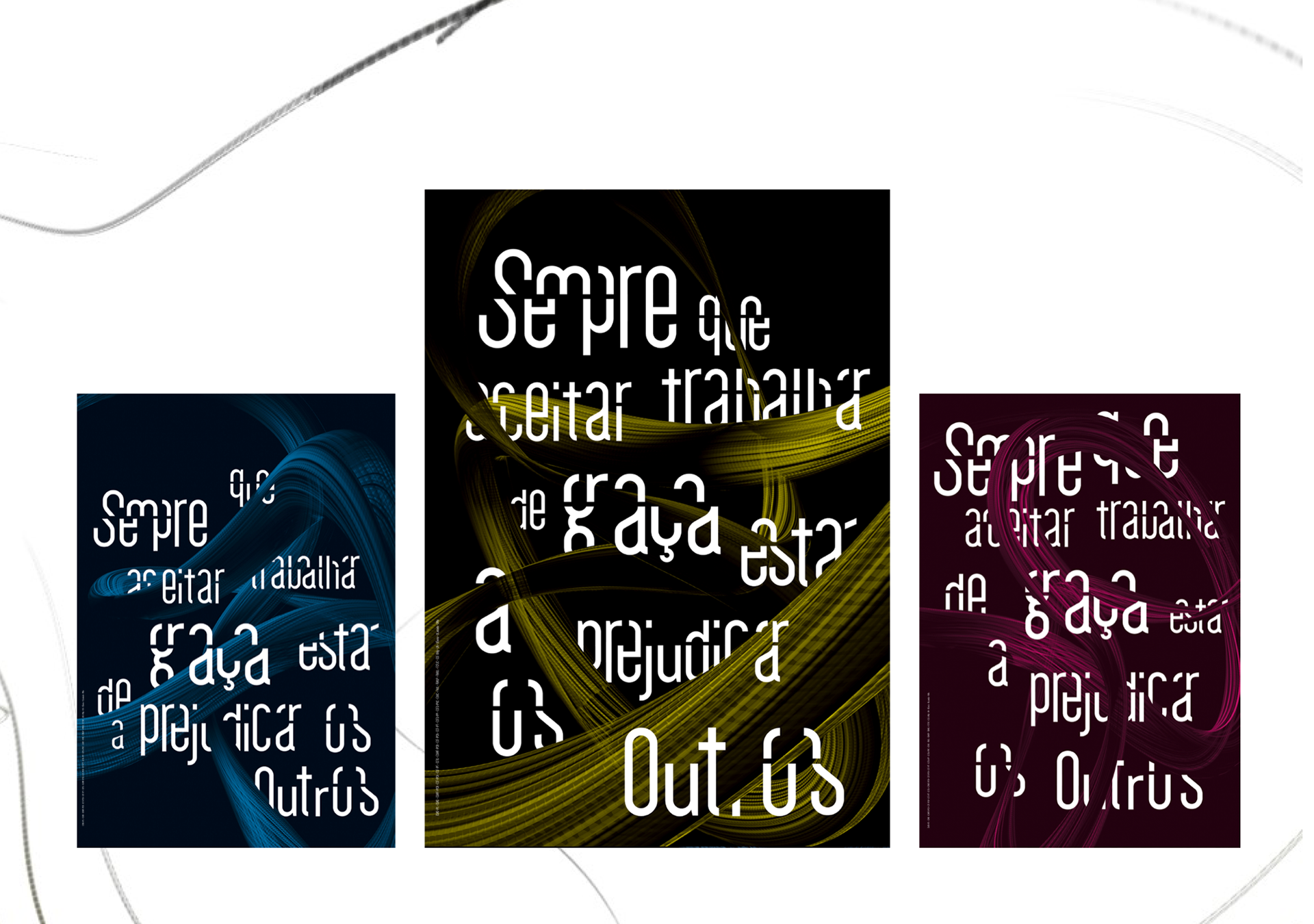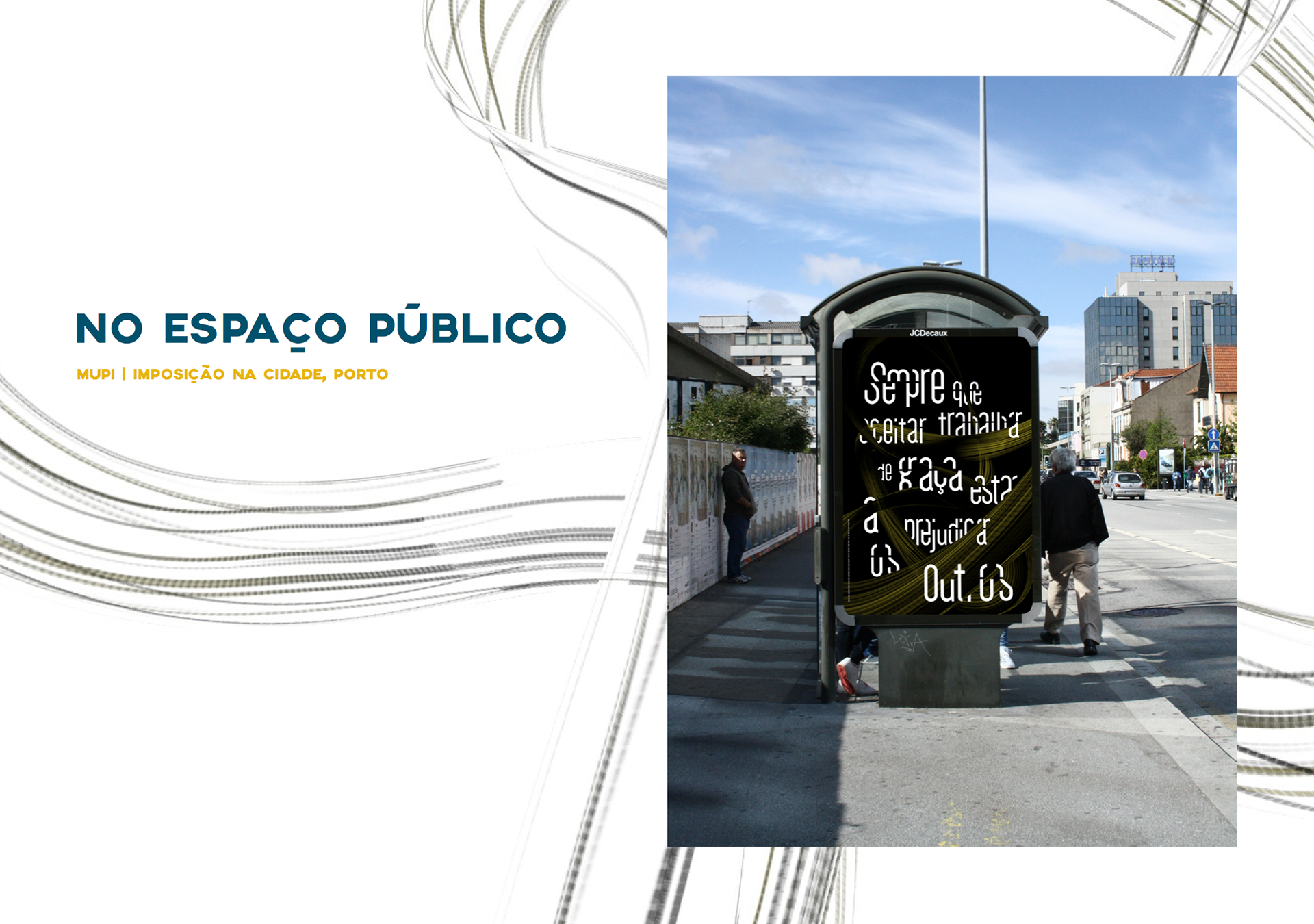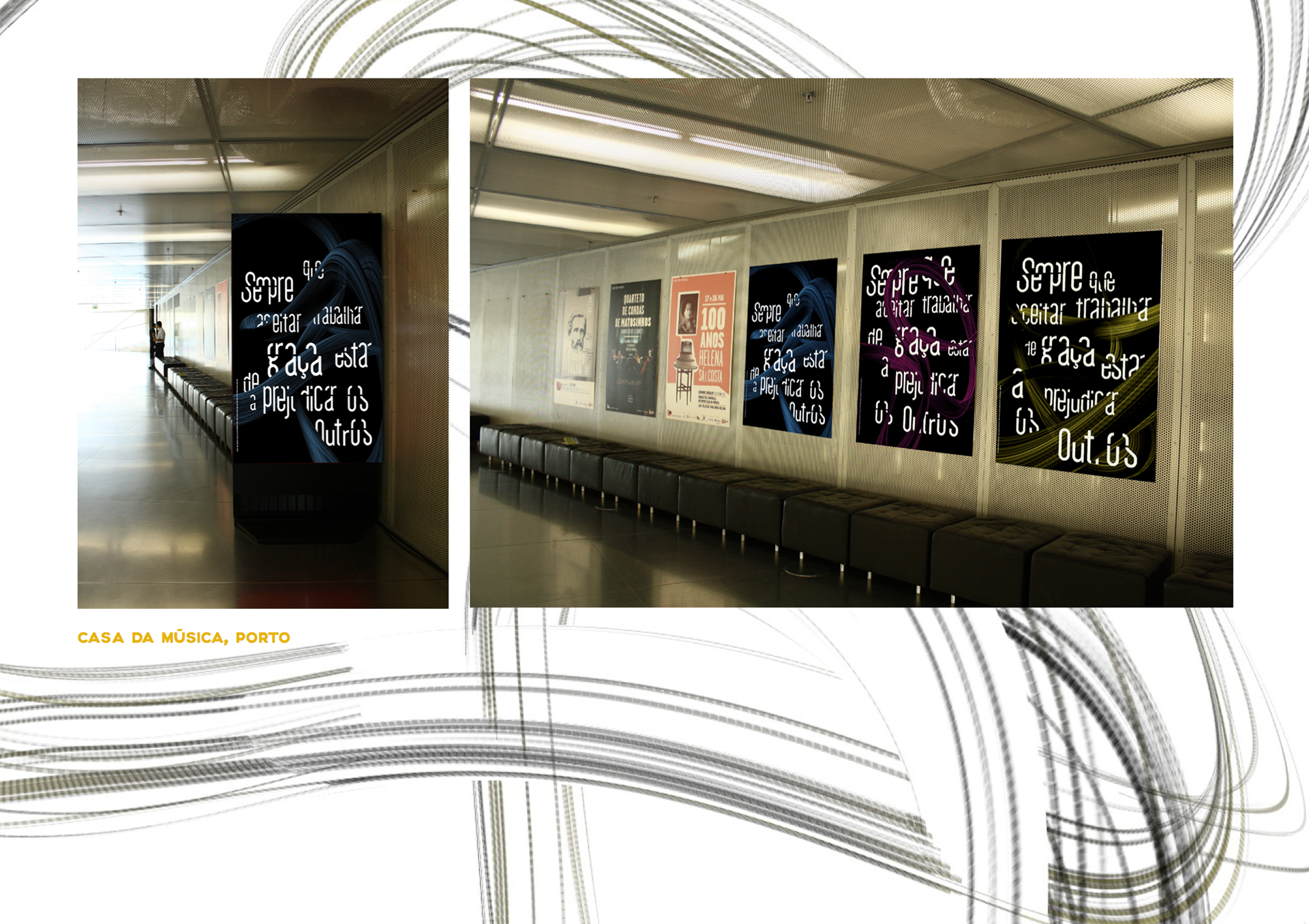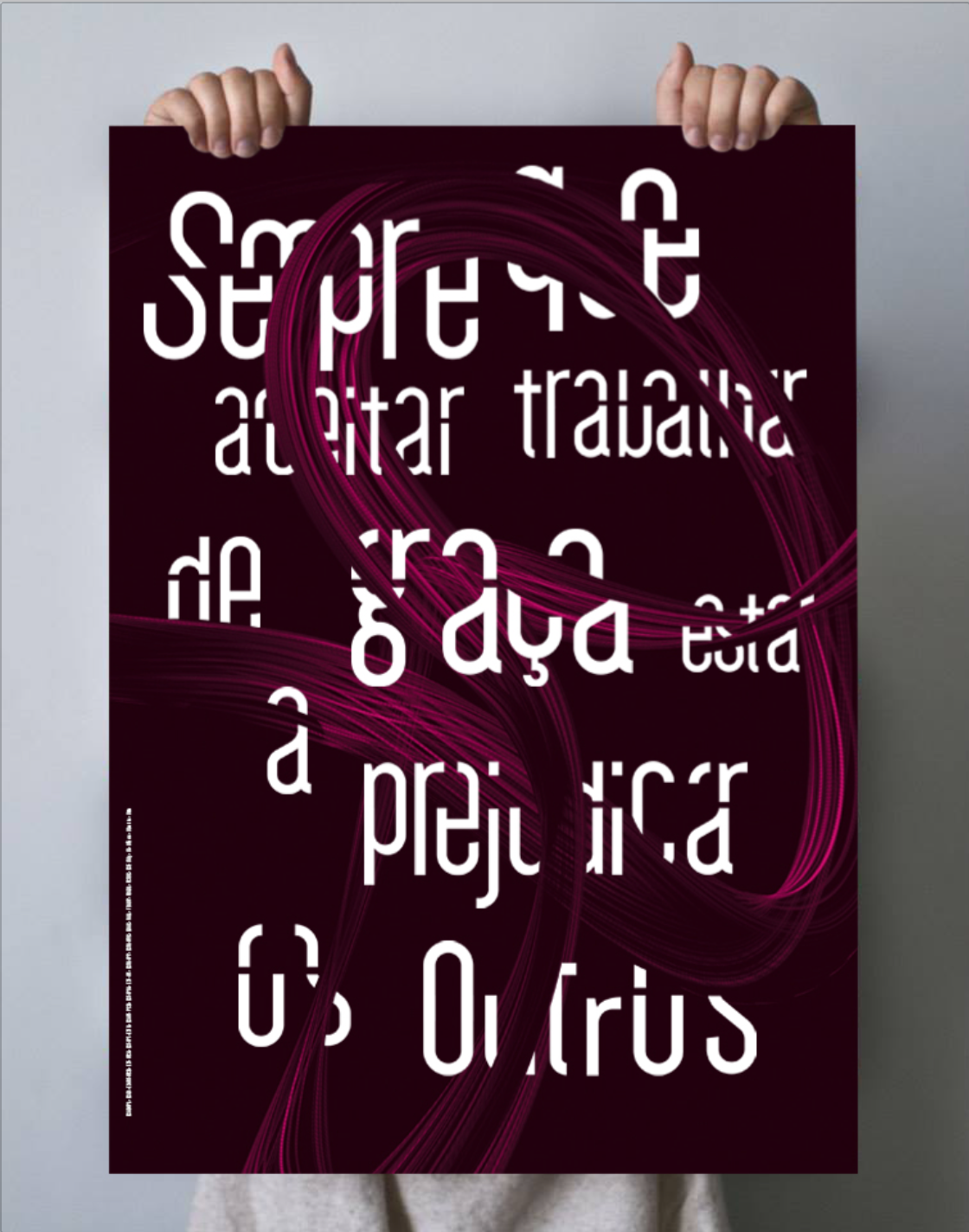 CONFUSÃO NA HARMONIA
um alerta de designers para designers
O conceito centra-se sobre a confusão que pode ser gerada sobre algo que está em harmonia. A harmonia é representada através de uma forma dinâmica, um nó de trevo.
Um nó, porque se associa a uma rotina que temos desde que somos muito jovens.
"Dar nós tornou-se uma rotina desde que aprendemos a apertar os atacadores dos sapatos." Já o trevo simboliza a sorte, a pr
osperidade e o sucesso. Logo, pretende-se representar uma sociedade equilibrada e interligada, onde um depende do outro.
O fundo é generativo, para isso criou-se um programa que gera a forma linha por linha, tornando-a mais densa. Cada linha asscociada a uma pessoa que entra no ciclo como um elemento essencial para a formação da sociedade, equilíbrio e harmonia. Através do Processing é gerado aleatoriamente o nó com diferentes cores, pois uma sociedade sem cor é uma sociedade sem vida.
A harmonia é quebrada pela tipografia que traz confusão e se entranha na forma. Esta representa os que aceitam trabalhar de borla e quebram o equilíbrio do seu mundo e o dos outros.
Frase a trabalhar "Sempre que aceitar trabalhar de graça está a prejudicar os outros"
JESSICA COSTA, 2014148445
DESIGN E RESPONSABILIDADE
P1 | META 2
PROPOSTA POR
NUNO COELHO, EDUARDO NUNES, DAVID PALMA
UC OFICINA DESIGN I
MESTRADO DESIGN E MULTIMÉDIA
FCTUC, UNIVERSIDADE DE COIMBRA, PORTUGAL NOVEMBRO 2014 
CONFUSION IN HARMONY
an alert of designers for designers
The concept focuses on the confusion that can be generated on something that is in harmony. The harmony is represented by a dynamic way, a trefoil knot.
A node, because it is associated to a routine we have since we are very young.
"Give us has become a routine since learned to tighten the laces of the shoes." It clover symbolizes luck, prosperity and success. Therefore, it is intended to represent a balanced and interconnected society, where one depends upon the other.
The background is generative, for this created a program that generates a line-by-line fashion, making it more dense. Each line asscociada to a person who enters the cycle as an essential element in the shaping of society, balance and harmony. Through Processing is randomly generated node with different colors because a colorless society is a society without life.
The harmony is broken by printing that brings confusion and penetrates in the form. This represents those who accept to work tassel and break the balance of your world and that of others.
Sentence to work "Whenever accept work for free is to harm others"

JESSICA COSTA, 2014148445
DESIGN AND LIABILITY
P1 | GOAL 2
FOR PROPOSAL
NUNO COELHO, EDUARDO NUNES, DAVID PALMA
UC DESIGN WORKSHOP I
MASTER DESIGN AND MULTIMEDIA
FCTUC, UNIVERSITY OF COIMBRA, PORTUGAL NOVEMBER 2014